Dish Network, a leading US TV provider with more than 13 million subscribers, is continuing its crackdown on unauthorized streaming services. In a pair of lawsuits filed in Maryland and Texas, Dish targets two illicit IPTV providers, claiming that each illegally captures and retransmits dozens of its channels to US citizens.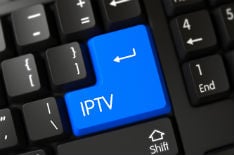 In broad terms, there are two types of unauthorized online streaming of live TV. The first is via open-access websites where users can view for free. The second features premium services to which viewers are required to subscribe.
Usually available for a few dollars, euros, or pounds per month, the latter are gaining traction all around the world. Service levels are relatively high and the majority of illicit packages offer a dazzling array of programming, often putting official providers in the shade.
For this reason, commercial IPTV providers are considered a huge threat to broadcasters' business models, since they offer a broadly comparable and accessible service at a much cheaper price. This is forcing companies such as US giant Dish Networks to court, seeking relief.
Following on from a lawsuit filed last year against Kodi add-on ZemTV and TVAddons.ag, Dish has just filed two more lawsuits targeting a pair of unauthorized pirate IPTV services.
Filed in Maryland and Texas respectively, the actions are broadly similar, with the former targeting a provider known as Spider-TV.
The suit, filed against Dima Furniture Inc. and Mohammad Yusif (individually and collectively doing business as Spider-TV), claims that the defendants are "capturing
broadcasts of television channels exclusively licensed to DISH and are unlawfully retransmitting these channels over the Internet to their customers throughout the United States, 24 hours per day, 7 days per week."
Dish claim that the defendants profit from the scheme by selling set-top boxes along with subscriptions, charging around $199 per device loaded with 13 months of service.
Dima Furniture is a Maryland corporation, registered at Takoma Park, Maryland 20912, an address that is listed on the Spider-TV website. The connection between the defendants is further supported by FCC references which identify Spider devices in the market. Mohammad Yusif is claimed to be the president, executive director, general manager, and sole shareholder of Dima Furniture.
Dish describes itself as the fourth largest pay-television provider in the United States, delivering copyrighted programming to millions of subscribers nationwide by means of satellite delivery and over-the-top services. Dish has acquired the rights to do this, the defendants have not, the broadcaster states.
"Defendants capture live broadcast signals of the Protected Channels, transcode these signals into a format useful for streaming over the Internet, transfer the transcoded content to one or more servers provided, controlled, and maintained by Defendants, and then transmit the Protected Channels to users of the Service through
OTT delivery, including users in the United States," the lawsuit reads.
It's claimed that in July 2015, Yusif registered Spider-TV as a trade name of Dima Furniture with the Department of Assessments and Taxation Charter Division, describing the business as "Television Channel Installation". Since then, the defendants have been illegally retransmitting Dish channels to customers in the United States.
The overall offer from Spider-TV appears to be considerable, with a claimed 1,300 channels from major regions including the US, Canada, UK, Europe, Middle East, and Africa.
Importantly, Dish state that the defendants know that their activities are illegal, since the provider sent at least 32 infringement notices since January 20, 2017 demanding an end to the unauthorized retransmission of its channels. It went on to send even more to the defendants' ISPs.
"DISH and Networks sent at least thirty-three additional notices requesting the
removal of infringing content to Internet service providers associated with the Service from February 16, 2017 to the filing of this Complaint. Upon information and belief, at least some of these notices were forwarded to Defendants," the lawsuit reads.
But while Dish says that the takedowns responded to by the ISPs were initially successful, the defendants took evasive action by transmitting the targeted channels from other locations.
Describing the defendants' actions as "willful, malicious, intentional [and] purposeful", Dish is suing for Direct Copyright Infringement, demanding a permanent injunction preventing the promotion and provision of the service plus statutory damages of $150,000 per registered work. The final amount isn't specified but the numbers are potentially enormous. In addition, Dish demands attorneys' fees, costs, and the seizure of all infringing articles.
The second lawsuit, filed in Texas, is broadly similar. It targets Mo' Ayad Al
Zayed Trading Est., and Mo' Ayad Fawzi Al Zayed (individually and collectively doing business as Tiger International Company), and Shenzhen Tiger Star Electronical Co., Ltd, otherwise known as Shenzhen Tiger Star.
Dish claims that these defendants also illegally capture and retransmit channels to customers in the United States. IPTV boxes costing up to $179 including one year's service are the method of delivery.
In common with the Maryland case, Dish says it sent almost two dozen takedown notices to ISPs utilized by the defendants. These were also countered by the unauthorized service retransmitting Dish channels from other servers.
The biggest difference between the Maryland and Texas cases is that while Yusif/Spider/Dima Furniture are said to be in the US, Zayed is said to reside in Amman, Jordan, and Tiger Star is registered in Shenzhen, China. However, since the unauthorized service is targeted at customers in Texas, Dish states that the Texas court has jurisdiction.
Again, Dish is suing for Direct Infringement, demanding damages, costs, and a permanent injunction.
The complaints can be found here and here.
Source: Torrentfreak